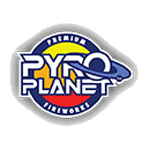 The Fireworks Superstore carries premium fireworks from Pyro Planet in Hannibal MO. It is Pyro Planet's passion to bring you the most spectacular fireworks show with each purchase. Buy fireworks from The Fireworks Superstore at discount fireworks pricing.
Cakes, fountains, and shell kits from Pyro Planet include names like White Out, Tangerine Dream, Rising Dragon, Kaleidoscopic, and more. You'll love the big blast and crackling color show in every fireworks product!
The team at Pyro Planet is constantly working on innovative new products. All the while, however, the company maintains the highest quality standards and stands by their brand.
If you have any questions about Pyro Planet fireworks, contact us and someone from our team will be back with you shortly!